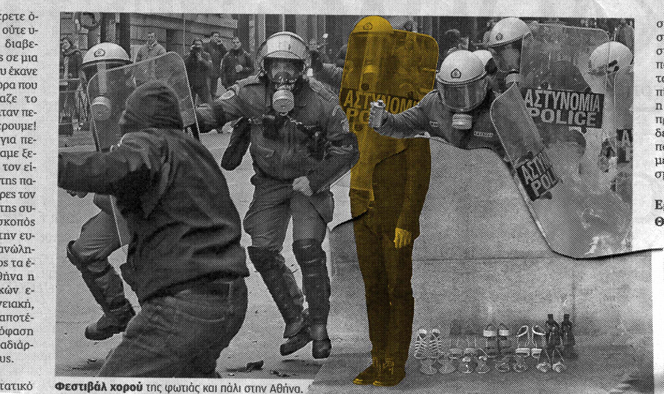 Description

Representaciones  27th

September 2012 – 27th October 2012

Lena Athanasopoulou, in her second solo show, dissects and analyzes different forms of collage, by presenting an installation of printed and projected works at Batagianni Gallery.

Original collage work, digital prints, slides and silkscreens, aim to exhaust the material capacity of the printed image. Lena Athanasopoulou tries to restructure icons of the real world: she uses material from newspapers & magazines, in such a way that she deconstructs the given narrative of images accompanied by text. What she comes up with is a world of very carefully directed compositions of images, which aim to translate her experience of the world, history, society, female gender. These carefully constructed worlds exist far away from the stereotypical presentations and conventions of photographic representation.

Through the realization of these works she opens up new directions for making and experiencing art, as well as experiencing and realizing oneself in the real world.

The exhibition is accompanied by texts of:

Stephanie Bertrand, Independent Curator - Writer.

Areti Leopoulou, Art Historian - Curator, Contemporary Art Centre of Thessaloniki.

Thouli Misirloglou, Art Historian - Curator of Exhibitions and Collections of the Macedonian Museum of Contemporary Art.