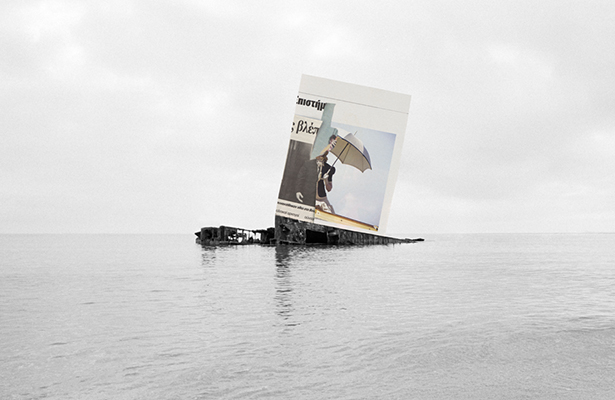 Description

Newsreel

22 of May to 15 of June 2015

Zina Athanassiadou Gallery

 

What forms  the value of a social / political event?  

What makes an event up to date and important?

In what way the photographic image and the written word form an entity in the news, in order to create and carry meaning?

All this mania of being always informed by the media (newspapers, television, web) for the latest event happening in the world, creates an anxiety that becomes a neurosis: a proof that we belong to the Western world  that promises with arrogance: prosperity, wealth and evolution.

Lena Athanasopoulou uses  ordinary tools of cutting down paper  to destroy all the records of the press headlines. She wants to create  a new vocabulary of places, bodies, spaces, texts, landscapes, time. This is an act of negation of all the stereotypical representation of the powerful  - the weak, roles that the press usually imposes on every single story they represent.

Lena Athanasopoulou introduces a new way to measure and experience time. She creates places where the perception of the present seems to be continuous. This state of existence through her collage work aims to bring the viewer closer to a clear mirroring of the self with no fear or resentment. Though these entities of cut, paste and digitally manipulated environments, one is asked to relate to the world in a way beyond and above its perfectly constructed image.

 

Exhibition catalogue texts by: Marina Athanassiadou, art historian - museologist & Alexios Papazaharias, artist - curator.